In south Fort Worth, Lolas Cuban Food restaurant is almost ready to welcome customers.
"It's been good," owner Liliam Morin said. "A lot of growth."
Growth because the business started out as a food truck four years ago.  Thanks to their successful business and a little financial help through a low-interest loan from the CDFI Friendly Initiative, they now have a brick-and-mortar.
"I don't believe we'd be able to do it without that help," Morin said. "This is a large step for us coming from a food truck. It's hard with the credit and the collateral that you need to."
The Community Development Financial Institutions Fund or CDFI initiative started last year.  It's provided $10.3 million so far in new capital to minority-owned businesses in Fort Worth.
"Your CDFIs are geared towards your underserved," Jeremis Smith, Legacy Construction Solutions CEO, said. "Your less heard companies and smaller businesses. So, I think it could be good if they do exactly what they are supposed to do."
Smith builds homes in the Stop Six Neighborhood. That neighborhood has seen a large portion of the CDFI funding.
Smith is still working to gain some of that capital because he says it could help his company help others build generational wealth.  
"Offer residential units to buyers that would have immediate equity in them," Smith said. "They would be below market prices. It would be below market, and it would give buyers an immediate buy-in and immediate equity."
There is a process to borrowing from the CDFI and Morin advises anyone looking to grow to give it a shot.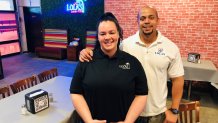 "Ask for help," Morin said "That's how we got here. We asked for help."
To learn more about CDFI Friendly Fort Worth click here.
2023-04-06 02:56:42



Source link