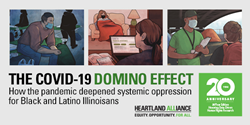 "Long before the pandemic, there were deep inequities in the opportunities and life outcomes of White people versus people of color. The pandemic deepened and widened those gaps. In order for our state to bounce back equitably from the pandemic, we must invest in the communities it hit hardest."

CHICAGO (PRWEB)
July 13, 2021
Heartland Alliance's Annual Signature Report releases data showing that Black and Latino Illinoisans carried the biggest burden from the COVID-19 pandemic and resulting recession.
"Long before the pandemic, there were deep inequities in the opportunities and life outcomes of White people versus people of color," said Katie Buitrago, Senior Director of Research and Analytics at Heartland Alliance. "These inequities are a result of generations-old racist systems and attitudes that have fostered a racial gap in health and wealth. The pandemic deepened and widened those gaps. In order for our state to bounce back equitably from the pandemic, we must invest in the communities it hit hardest—that means Black and Latino communities."
The report "The COVID-19 Domino Effect: How the pandemic deepened systemic oppression for Black and Latino Illinoisans," analyzes new data from the U.S. Census Bureau and Illinois Department of Public Health. Findings conclude that Black and Latino populations faced disproportionate impacts from the pandemic, including:

Latino Illinoisans are getting infected with COVID-19, and Black Illinoisans are dying from COVID-19, at disproportionately high rates – A contributing factor may be that Black and Latino Illinoisans were less likely than the rest of the state to be able to switch all or some of their usual in-person work to telework, putting them at higher risk of contracting COVID-19.

Latino Illinoisans lacked health insurance (20%) during the pandemic at a rate twice as high as Illinois overall (10%). While health insurance coverage rates have overall improved since the implementation of the Affordable Care Act, disparities for Latinos persisted, likely in part because undocumented people are not qualified for ACA plans.

Black and Latina women are experiencing concerning mental health symptoms during the pandemic. While 39% of Illinoisans reported symptoms of depression and anxiety, 61% of young Latina women, 47% of adult Latina women, and 44% of adult Black women reported symptoms.

Over half of Black and Latino households—especially those of women of color—have lost income from employment since the beginning of the pandemic (compared to 45% of Illinoisans).

Half of Black and Latino people are struggling to make ends meet—much more than the 1 in 3 Illinois households overall that report difficulty meeting household expenses.

Public programs and federally funded emergency relief (like unemployment, SNAP, and stimulus) play an important role in supporting Black people during the pandemic-related recession, but Latinos may be disproportionately underserved by these programs.

Black and Latino renters are facing higher levels of rental housing instability than the Illinois average. In the absence of renter protections like eviction moratoria, housing instability puts renters at risk of homelessness.

Black and Latino homeowners are at higher risk of falling behind on their mortgages and potentially going into foreclosure than Illinois homeowners overall.

Latinos were more likely to use credit and spend savings or sell assets than the Illinois average, suggesting that Latinos will exit the pandemic-related recession on a shakier financial footing than before.
The report also calls for bold policy solutions to drive Illinois's post-pandemic recovery efforts in a way that provides equity and opportunity for all.
"Just as the ripple effects of the pandemic did not affect us all equally, the recovery must not take a one-size-fits-all approach. We must invest in the hardest-hit communities—and that means an approach that provides a foundation specifically for Black and Latino people to heal and thrive," said Evelyn Diaz, President of Heartland Alliance.
According to the report, an equitable recovery must ensure that:

Everyone has access to high-quality, culturally competent, equitable, and affordable health care.

Everyone has the money they need to meet their basic needs.

All would-be workers have access to a quality job—and the supports they need to stay successfully employed.

We invest in closing the racial wealth divide so that people of color can weather emergencies and build towards prosperity.
The report release includes an accompanying website that highlights stories and illustrations of Black and Latino Illinoisans harmed by the pandemic; an interactive data portal; details bold solutions on health, jobs, cash support, and wealth; and more.
Visit it at http://heartlandalliance.org/COVID19report. This release marks the 20th anniversary of Heartland Alliance's annual signature report on Illinois poverty.
About Heartland Alliance

Heartland Alliance works to advance human rights and champion human dignity by providing services and promoting solutions to achieve a more just global society. Society benefits when all people can participate, prosper, and reach their full potential. We will not give up until everyone has access to safety & justice, health & healing, and economic opportunity.
https://www.heartlandalliance.org/
Heartland Alliance's Social IMPACT Research Center conducts research that helps leaders create change and advance real-world solutions to poverty. For more info, visit http://www.heartlandalliance.org/research/ and follow us on Twitter.
Share article on social media or email:
www.prweb.com

Source link
#COVID19 #Pandemic #Recession #Hit #Black #Latino #Illinoisans #Harder #White #Illinoisans